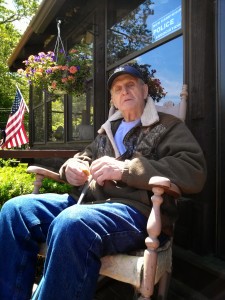 Written by  Mary Ann Sharpe.  My husband died on May 24, 2014 at 9:15 PM. He had been diagnosed with Alzheimer's seven years before that and I was his primary caretaker.   He was transported to Hyder Family Hospice House six days prior to his death.  His children and I were by his side during his passing.
I couldn't have asked for more professional care and respect from the doctor, nurses, nurse's aids and volunteers.  They explained the dying process to us and what would happen upon his death which helped make it easier to process.  The staff was so caring and thoughtful.  They made him and all of us as comfortable as possible. We laughed, talked, cried, and sang to him…right up until his last breath.
My husband was a proud, strong man and it would have been the way he would have wanted to go onto his new Journey.  Right after his passing, we heard deer running through the field.   We all knew he was running with the deer.  He would have been happy.  I thank you all from the bottom of my heart.