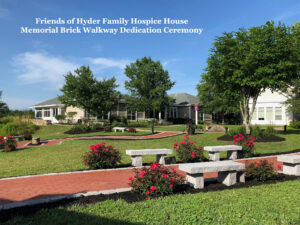 After two years of holding the Annual Brick Dedication Ceremony virtually, The Friends of Hyder Family Hospice House will hold this year's ceremony in-person at the Hyder Family Hospice House on
Saturday, September 10th, 2022 at 11:00 AM
Bricks ordered by July 25th, 2022 will be included in this year's dedication.  To order a brick, please click the "Order a Brick in Honor of your Loved One" button above.
All are invited to attend the Annual Brick Dedication ceremony.  If you do wish to attend the ceremony, we kindly ask that you RSVP by clicking here.
New Feature! We have also added an on-line Brick search.  For bricks dedicated in 2021 and before, you can search for the brick and see a photo of it along with a map to find it along the Memorial Brick Walkway. Click Here to start your search.
The Memorial Brick Garden and Walkway was dedicated in September 2013 as a place to reflect and remember loved ones. You can memorialize your family and loved ones with up to three lines of text on a specially made brick that will be added to this beautiful area. All project profits will help to support Friends of Hyder Family Hospice House. You may order a brick on-line by clicking here or the button at the top of the page.
Contact us for more information.
Download a brochure for more information and to order a brick by mail.